Hi.
I had this blog like, a thousand years ago. Pretty sure people never read it unless I specifically asked them to; luckily, I now have many more Twitter followers than I did in the time of the dinosaurs, thus I can specifically ask *many more* people to read this shit. Hence, blog entry. Okay? Okay. We'll see if this becomes a regular thing (probably not).
So if you haven't heard, this funny thing called the NHL came back this weekend (hashtag HOCKEYISBACK reply NOWAI HOCKEY NEVER WENT ANYWHERE RABBLE RABBLE WE'RE SUPERIOR). Fans everywhere apparently celebrated by
spending all the moneys in the world
. Although that link is to Fox News so I guess that's probably wrong. Anyway.
Given that I watched probably at least a minute of every single game that aired this weekend (related: I have no life and I'm flunking every college course WOOOO #HOCKEYISBACK oh god), I figured I would try and run you through the highlights. Of all of them. And it will keep you from checking my last post, which is my hilariously wrong 2011 predictions that I don't think I ever finished. Please don't read them. Read this instead!
SATURDAY

KINGS VS. BLACKHAWKS
So this happened: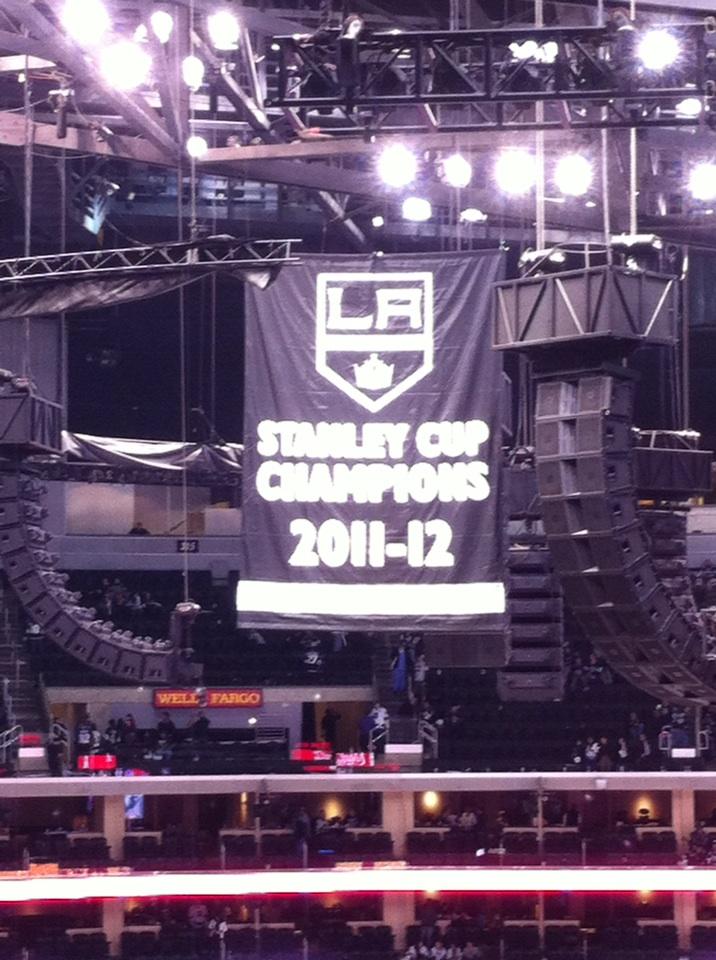 (stick tap to
@nickaresee
who you should totally be following, go do that I'll wait)
It was the day you thought would never come. It was the day that made you cry. But enough about San Jose Sharks fans.
Anyway, I legit died of happiness and have been a walking, talking zombie ever since. RIP me killed by joy of buncha rich dudes I've never met getting expensive rings.
Oh and
NBC were total dicks.
That kind of sucked.
There was a hockey game played somewhere in here too I guess. Let's not talk about that.
FLYERS VS. PENGUINS
After nearly killing each other while simultaneously forgetting how to play anything resembling defense in one of the most memorable playoff series of all-time, the Flyers and Pens trolled us all with a kinda boring 2-1 game of whatever. Giroux's goal was pretty nice. Crosby was held pointless but GUESS WHO THEY TALKED ABOUT ANYWAY?! NHL Network's crack graphics team attempted to balance this out by listing him as a -3, which was kind of funny given the Flyers scored A GOAL. +/- is a pretty nonsensical stat, but I'm still pretty sure that's not how it works guys.
SENATORS VS. JETS
I had this game on my TV muted most of the afternoon with Kings-Hawks on my computer, mostly because my BFF is inexplicably a Jets fan (and a Coyotes fan but we'll get to that later promise; I know that makes a sense that is not), and as that game became more and more out-of-control watching this one became my salvation. Think about THAT for a while. That Erik Karlsson dude looked like he spent the entire summer reading Leaf fan tweets mocking his contract and the idea of him having a 78-point season again. Now he'll probably do it again, this year, in a 48-game season, because there is a god and he really fucking hates fans of the Toronto Maple Leafs. Pretty sure the Sens won but again, no sound so who knows really.
RANGERS VS. BRUINS
I thought Rick Nash looked pretty cool at times, especially on the PK. I'm sure the Rangers got murderized in the #fancystats department. Henrik made an amazing save if you ignore the fact that the puck was probably across the goal line. Fuck the Boston Bruins.
MAPLE LEAFS VS. CANADIENS
Every time I turned this game on I wanted to cry. The Bell Centre is holy ground you fucks, and you played terrible, boring hockey there on this day of celebration. The crowd sounded like they all took sleeping pills mixed with booze mixed with warm milk mixed with more booze. I didn't get to hear a single OLE, OLE chant. The Leafs didn't even play Reimer who is funny and makes me laugh. It ended 2-1, the most boring score in hockey (at least with a shutout you're like WHOA HE HAS A SHUTOUT GOING CAN HE KEEP THIS UP?!) So yeah this game seemed pretty bad two thumbs down etc.
DEVILS VS. ISLANDERS
Okay so maybe I didn't watch EVERY game....
CAPITALS VS. LIGHTNING
When everyone was talking about "post-lockout hockey" this is like the exact game they all imagined in their adorable little heads. In the time it took me to write that sentence, someone in this game would have taken another tripping penalty. Both teams' penalty kills looked like they spent all of five minutes on them. Mike Riberio looked good for the Capitals. Braden Holtby looked the opposite of that. It was a fun game to flick on every five minutes because something was probably happening. Also I totally forgot they play "Louie Louie" whenever St. Louis scores a goal. I laughed.
PANTHERS VS. HURRICANES
"Everyone is picking the Hurricanes to make the playoffs and the Panthers to go right back to missing, hmm? We'll show those fucks!" -xoxo hockey gods
BLUES VS. RED WINGS
In a desert full of games going literally the exact opposite way I would have predicted, this game was my oasis. "The Red Wings will probably be bad without two of their top four defensemen, but the Blues look really good this year." said me and like every other person ever. Yep. Tarasenko ripped right past Kyle Quincey as if he was a white-and-red traffic cone, which is probably going to become a theme this season me thinks. This is hilarious to say, but Quincey is definitely nowhere near as good as Colin Fraser (but is probably still better than Ryan Smyth, so I guess Edmonton are the real losers, as usual).
BLUE JACKETS VS. PREDATORS
Are you sitting down? Okay. Guess what? The Jackets won their first game. Artem Anisimov, who came over from the Rangers in that Rick Nash deal everyone pretty much liked (for the Rangers), made this totally sick play leaning on Paul 'hey fun fact Nashville gave Buffalo a 1st rounder for me, no seriously' Gaustad and beating him to the net like he wasn't even there en route to backhanding it right over Rinne and under the bar to tie the game up and send it into overtime. I typed all that out only because it was like 500000x cooler than anything Rick Nash did this weekend so I think we all know what THAT means. And if you haven't figured it out yet, Artie scored in the shootout too. So that's TWO more things than Nash has done all weekend. And no Rick, scoring pointless goals in the third period of games that are already over doesn't count. Sit your ass down, bust boy. Yep, you're already a bust, tough shit deal with it THIS IS NEW YAWK
BTW not sure but think I heard Shea Weber sobbing gently to himself a few times. Fourteen years is a looooonnnngggg time, big guy.
COYOTES VS. STARS
As I mentioned earlier, my BFF loves the Coyotes for reasons totally indiscernible to me. Naturally, I became the biggest Dallas Stars fan in the known history of the universe. JAGR SHOOTS....HE SCORES! 4 POINT NIGHT! WHITNEY YOU'RE A RAY OF SUNSHINE! awwwww better luck next time Yotes : (
(I don't have that many friends.)
WILD VS. AVALANCHE
After Colorado went up 1-0 like two minutes in I was all "lol same 'ol Minny right guys?" on my Twitter. Then Minnesota scored three unanswered goals. So uh sorry Avs fans, my bad.
CANUCKS VS. DUCKS
This was the only late game and again no life etc. so despite hating both teams with the passion of a million red suns I was watching it. And thank god for that, because I got to see the makings of a TV movie: new starter Schneider gives up five soft goals and leaves in shame, the previously reviled but now beloved Luongo comes in as the new conquering hero to a standing ovation, and then uh.....gives up two more goals in a 7-3 loss. So I guess the ending could use a little work. LUUUUUUUUUU~
SUNDAY
FLYERS VS. SABRES
Like halfway through the first period I was all "wait, why did I get up for this game again? I could be sleeping and having weird dreams about ex-girlfriends and Twitter and something about a roller coaster, I hate both these teams and this game is pretty boring." It picked up in the 2nd & 3rd though. If we're gonna be totally honest here the Flyers got jobbed big-time; first Ryan Miller embarrassed all of America with his thespian antics and somehow got a totally legitimate Flyer goal waved off for "contact", and then a quick whistle robbed the Flyers of ANOTHER goal late in the 3rd that would have at least made it interesting. Still, if you think I'm gonna be sad that the fucking Philadelphia Flyers have started 0-2 you've got another thing coming, bucko.
SHARKS VS. FLAMES
I enjoyed this game while the Sharks were losing. Then they woke up, scored two quick goals, and I was all "lol bye". Calgary looks to be pretty terrible so tough to judge if this is a "good in the regular season, terrible in the playoffs" year or a "just terrible" year for San Jose.
PENGUINS VS. RANGERS
I don't hate the Penguins anywhere near as much as 99% of Rangers fans out there, but I guess that's probably because I'm a fake Rangers fan anyway sooooo.....whatever. This was a game that happened. The Rangers looked pretty good for a while and then got slaughtered. MSG was really mad. I bet some fights broke out. Hopefully no one dumped beer on some Pens fan's children or something (but no promises, again THIS IS NEW YAWK etc)
WILD VS. STARS
I watched this one for a little while just to confirm that my one-night Dallas Stars luv had totally evaporated. Yup. I guess the Wild won 1-0 and I bet it was still less boring than that Leafs-Habs game. Seriously, if you have Gamecenter go put that game on and watch as time itself begins to move more slowly (that's relativity kids. I think. maybe.)
CANUCKS VS. OILERS
WHEN WE LAST LEFT ALL MY OVERPAID GOALIES, MIKE GILLIS WAS FACED WITH A STUNNING BETRAYAL BY HIS HEAD COACH. ALSO THE PROVINCE STILL EXISTED. IT WAS A BAD NIGHT ALL AROUND. WHO WILL START THE NEXT GAME NOW THAT BOTH GOALIES HAVE BEEN HUMILIATED? WHO IS REALLY BEHIND @STROMBONE1 (HINT: IT'S BIEKSA)? AND WHO GAVE AV THE CLAP?
So Luongo started, which was kinda funny on its own, but unfortunately for people who love ridiculous drama and stupid newspaper articles nothing outrageous really happened. Bobby Lu didn't turn in a 41-save shutout, or get lit up for five goals and get pulled, or break a finger sending out a pregame tweet. He put in a pretty good performance and then lost in a shootout. Okay whatever I give up trying to predict what's gonna happen here. How about: Luongo becomes the de facto starter once again after Cory Schneider is abducted by aliens, given anal probe, out 6-8 months from the date they find his prone and naked body? Works for me.
BLACKHAWKS VS. COYOTES
Holy shit this game. I haven't confirmed this yet but I'm pretty sure this was like the greatest ever. Okay first you have the crowd, which was full of Blackhawks fans. You also had Dave Strader, noted Coyotes homer, calling it and doing his best to ignore this fact (examples: Strader noting that a Hawks goal made a "few" Hawks fans in attendance happy, even though they were clearly louder than the Yotes fans in attendance; Strader saying that the crowd was "stunned" at another Hawks goal when they were cheering at the top of their lungs, etc.) Comedy.
Also funny: two terrible goaltenders. Mike Smith is either having a poor start to the season and will ultimately rebound and find his 2012 form, or he's suddenly remembered that he's really fucking terrible. At one point he gave up one of the funniest goals I've ever seen: Dave Bolland got a pretty beautiful feed from Patrick Sharp, tapped it towards Smith, who looked to have stopped it while simultaneously falling down. HOWEVER, the puck in fact bounced up and over him, and he reached up with his glove
while falling down
, trying in vain to reach it. He failed, and the puck literally went over him and into the net. I seriously can't tell you how many times I re-watched Mike Smith reaching up to the sky with one arm while falling, laughing harder and harder each time, but it was definitely "a lot".
Anyway other than that goal nine other ones were scored, much Twitter hilarity ensued, and everyone had a good time. Except Coyotes fans I guess but who gives a fuck about them. This was some damn entertaining hockey, easily the highlight of my weekend. Oh and the Coyotes unveiled a really ugly Pacific Division Champions banner that also appeared to be hung kinda crooked, which incidentally is also how one could describe Shane Doan's penis. OR SO I HEAR.
Anyway so. Hockey! I enjoyed it. I will probably never write one of these again because it turns out I had absolutely nothing to say about anything and I think I managed to give myself carpal tunnel syndrome in the process. Fun times. Goodnight internet.